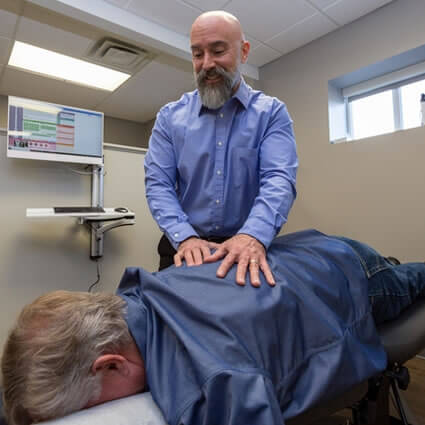 Meet Dr. Aaron Prinkey
Drawn Towards Natural Healing
As a child, Dr. Prinkey used to argue with his parents over the need to take medicine, believing from a young age that the body has what it needs to heal itself. This interest in a natural approach to healing, coupled with his love of working with his hands and his desire to help others led him to consider chiropractic as a career.
After a low back injury in high school, Dr. Prinkey saw a chiropractor. The results included no more back pain and a greater desire to become a chiropractor himself.
He completed a double major in biology and psychology at Duquesne University, then attended Palmer College of Chiropractic. When he began receiving regular chiropractic adjustments as a student at Palmer, his allergies and migraines resolved and he understood the true power of chiropractic care for health. He received his Doctor in Chiropractic in 2000, dedicated to the prospect of helping others enjoy optimal health.
From Sports to Family Care
Dr. Prinkey practiced at a family practice in North Carolina with an emphasis on sports injuries for many years, where he treated a large number family members and athletes of all ages. This background serves our Talley Cavey Chiropractic family practice patients well, because keeping families moving and active helps them maintain their overall health and function. With over twenty years' experience, Dr. Prinkey creates a custom care plan for every patient, using a variety of adjusting techniques as needed, including:
Diversified
Extremity adjusting
Gonstead
Instrument-assisted adjusting
Thompson drop
Our techniques are safe and gentle enough for newborns as well as the elderly, and everyone in between.
OUR SERVICES
No-Nonsense Results
Dr. Prinkey is committed to getting you the results you need, using the power of chiropractic care to remove the nerve interferences that stymie your body's ability to heal itself. We don't waste your time with gimmicks, fads or schemes. We offer no-nonsense, expert chiropractic care that gets results.
Away from the Office
When he's not at work, Dr. Prinkey spends most of his time with his wife and four children, exploring the outdoors, hiking and fishing. The whole family loves music, and they are very involved with their church.
Book an Appointment
Contact our chiropractic office today to schedule an appointment with Dr. Prinkey!

Dr. Aaron Prinkey | (412) 684-1982