About Talley Cavey Chiropractic
Our Philosophy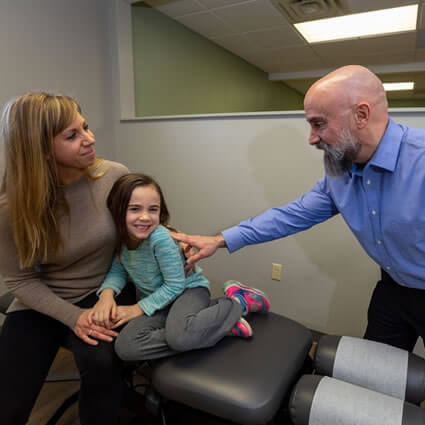 At Talley Cavey Chiropractic, we believe in the body's innate ability to heal itself—and in the power of chiropractic care to remove the interferences that inhibit its ability. We're a family practice, with the goal of helping every member of the family, from newborns to the 100s, achieve their health and wellness goals.
Of course, most patients initially come to us because they're in pain or unable to move the way they want to. Therefore, our first goal is to address their current condition by taking the time to locate the underlying cause of the problem and correcting it at its source. Once health has been restored, we move towards a wellness model to help patients maintain optimal health. We strive to help every patient live at their full health potential.
Dr. Prinkey strongly believes that bodies are created to be healthy. By correcting the root of the problem through chiropractic care, rather than masking symptoms with drugs or surgery, we can help improve patients' overall function, giving them more vitality and motion and helping them live life to the fullest.
MEET DR. PRINKEY

Sharing His Passion for Natural Health
A Pittsburgh-area native, Dr. Prinkey attended Duquesne University before receiving his Doctor of Chiropractic from Palmer College of Chiropractic in 2000. He practiced in North Carolina for about twelve years before coming back home and practicing in downtown Pittsburgh. When the pandemic forced the workforce out of the downtown area, Dr. Prinkey took the opportunity to move closer to home and refocus on his true passion—effective, no-frills family chiropractic care. He purchased Talley Cavey Chiropractic in July, 2021.
There's no place like home, and Dr. Prinkey loves being back near his hometown and helping families in our community achieve their health and wellness goals.
Dr. Prinkey feels blessed to participate in the healing of the human body and for the opportunity to witness lives and families change as a result of natural chiropractic care.
Start Today
Contact us today to schedule your first appointment.

About Talley Cavey Chiropractic | (412) 684-1982